When it comes to money management, it's easy to make mistakes. Unfortunately, these mistakes can negatively affect your credit score. Plus, sometimes circumstances out of your control can also affect your credit, such as a divorce or bankruptcy. When your credit slips from perfect to good to bad, to, well, rock bottom, it can be challenging to get approved for car loans, housing rentals, mortgages, and get a good interest rate on loans. What's more, employers often check potential employee's credit score as part of the hiring process. A bad credit score can reflect negatively on your character in the eyes of a potential employer who doesn't know you personally.
To be frank, a low credit score can really hurt your ability to work, play, and live comfortably. But there is hope, however, and no matter how low your credit score drops, there's always the chance to repair it. The road to achieving a good credit score can be bumpy and difficult, but well worth the effort, as completing that journey always pays off in the end.
As Canada's leading money lender in Ontario, the Cash 4 You team wants to help you achieve your financial goals. That's why today, we'll share six ways you can start repairing your credit score by making small changes that can have a big impact on your credit. Don't let a low credit score hold you back from life's adventures; visit Cash 4 You to get approved for installment loans of up to $15,000, regardless of your credit standing. Get the money you want and repair your credit at the same time!
The first step in repairing a low credit score is knowing your options so that you can make a plan and stick to it. In part one of our short blog series, we'll share six helpful tips to get you started on your journey to achieving awesome credit.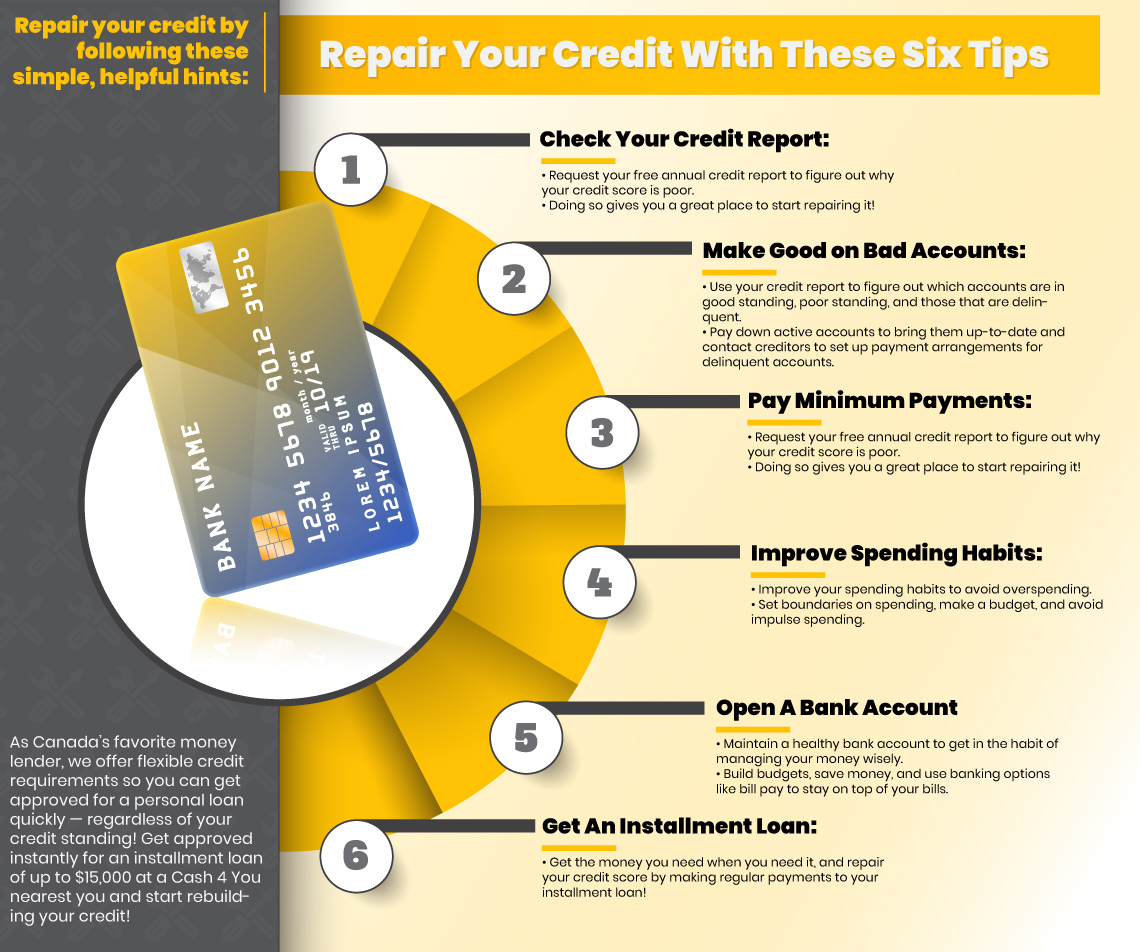 Check Your Credit Report
The first step to repairing your credit is to check your credit report so you know where you stand. People often avoid checking their credit score if they know it's gone down, so it's important to know exactly what your credit score is, which delinquent accounts have made a negative impact on your credit score, and which accounts are in the clear. Identifying the reasons why your credit score is poor gives you a good place to start in repairing it.
Visit TransUnion or Equifax, two of the leading credit bureaus, that will provide you with a free credit report once a year. Oftentimes, your bank will even provide you with a credit report, free of charge.
Make Good on Bad Accounts
After checking your credit report, figure out which accounts are in the positive, which are behind, and which are in collections. Highlight the open or current accounts that show missed or late payments, as well as the delinquent accounts that are in collections. It's up to you to decide where to start, but reaching out on the open accounts that have not gone to collections may be an ideal place to start. If you only need to make a few payments to bring them up-to-date, pay these accounts down before they go to collections. Doing so is a great way to start instantly improving your credit. Then, contact creditors to make arrangements for setting up a payment plan. The sooner you contact them, the better.   
Pay Minimum Payments
For any open accounts you have, it's always smart to at least pay the minimum payment. Skipping a payment will continue to reflect poorly on your credit, but paying the minimum amount shows that you're making an effort to keep it up-to-date. If you can't make the entire payment, contact your account holder to see if they'd be willing to make a payment arrangement with you. It can't hurt to ask.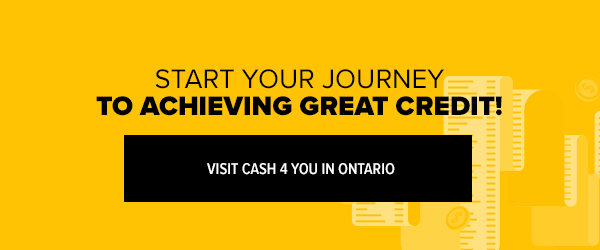 Improve Spending Habits
One of the best things you can do moving forward is to improve your spending habits. Setting boundaries on spending, making a budget, and avoiding impulse spending sprees are just a few ways to start improving your credit. Once you build healthy spending habits, you'll have a routine to follow that limit money management mistakes like overspending and maxing out high-interest credit cards. Stay tuned for an upcoming article outlining ways to improve your spending habits!
Open A Bank Account
If you don't have a bank account, open one. Check local banking institutions and credit unions that offer easy opportunities to open a bank account. Maintaining a healthy checking account that does not go into the negative and building a savings account, can help you get into the routine of managing your money wisely, budgeting, using options like bill pay to stay on top of your bills, and saving money, all of which reflect positively on your credit and payment history.
Get Approved for an Installment Loan   
Taking out an installment loan gives you the opportunity to make regular payments toward your loan over time. While it might seem as though this type of personal loan is out of the question for someone with a low credit score, it's just the opposite. At Cash 4 You, we can instantly approve anyone for installment loans in amounts of up to $15,000, regardless of their credit standing. You see, as Canada's Top Rated National® installment loans provider, we're passionate about helping people from all walks of life, and all credit backgrounds, get the money they need to support a happy life. We understand that sometimes, things happen that can affect your credit, which is why we offer relaxed credit requirements for installment loans.
Visit A Cash 4 You Near You
Getting an installment loan is easy and fast, and you can get your money the same day you apply. Simply apply online or in one of our 100-plus locations in Ontario, get approved in minutes, and stop by a Cash 4 You nearest you to complete the loan and pick up your cash. We work with you to determine the best repayment plan that is ideal for you. Start rebuilding your credit with a Cash 4 You installment loan and experience the freedom that comes with a good credit score!
Tune in next time as we look at six more ways to repair a low credit score. Until then, thank you for reading!