We all go on vacations as a way to get away from the daily stresses of our lives. But if you're not careful about how you plan your trip you might find that it's more stressful than if you had never gone at all. The point of your next vacation is to relax and unwind, and you can do that when you follow these handy hints from Cash 4 You, Ontario's leading provider of personal loans.
Figure Out Your Travel Budget
Perhaps the first thing you should do before you get too far in your vacation planning is to figure out your budget. You can do this in one of two ways. First, you can let your budget dictate where you travel. So if you have been saving time off, or money, you can use these resources as the deciding factors as to where you go and for how long. This can translate into short or long trips. The other way is to do the reverse. Look at a destination, price out lodging, activities, and food, and build your budget around that.
In either case, it's always a good idea to budget on the high-end for all these things. Prices can change unexpectedly so it's always a good idea to have extra cash on hand. Of course, if you need that little extra to get your budget in a good place, or you just need to truly get away, an installment loan for up to $15,000 from Cash 4 You is a great way to get to your destination faster.
Take the Road Less Traveled
There are some destinations that are famous and for good reason. Be it the incredible architecture, famous performances, or proximity to natural resources, these popular destinations are often expensive and crowded. If you're looking for a truly stress-free vacation, it's best to avoid these areas and go somewhere less popular. You'll save money on tickets, hotels, and more. Plus, you get to explore an area that few other peoples do, which means you'll have more interesting stories to tell the next time you get together with friends.
Let Someone Plan Your Vacation For You
Are you halfway to this article and your head is already spinning? That might be a good sign that it's time to enlist some help. While many people now plan their entire trip through simple Google searches, using a traditional travel agent is a great option for those who want to take the stress completely out of planning their vacation. While you might pay to use their services, you often save money in the long run because they know how to get package deals on flights, lodging, and even activities. Plus, a travel agent might have insights into must-see places and must do activities that you wouldn't find otherwise.
Make Sure You've Got the Right Kind of Currency
While most of us are content to use debit cards and credit cards as we travel, Having cash on hand is always important. This is especially true if you're traveling out of the country. Even a quick jaunt down to the United States is made easier by having some American money on hand. Make sure you take advantage of currencies exchange services before you leave and don't use them at the airport. This way you will get the best rates and save money.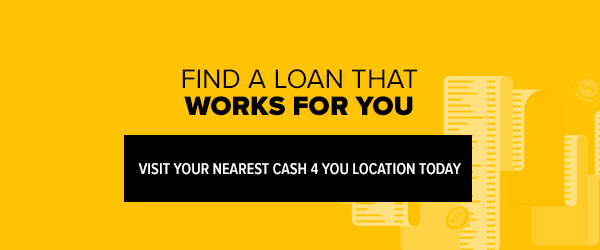 Take Your Ideal Vacation Today
Travel budget looking a little thin? Don't let that slow you down! Cash 4 You can offer you a personal loan of up to $15,000 in just minutes. Just stop by one of our more than 100+ in Ontario, fill out a simple application, and walk out with cash-in-hand. You'll have everything you need for your trip, so you can enjoy every minute of it!