When you need money fast, it can be hard to know where to start, and which lender is the best fit for you. With so many different options available these days, you want to make sure you find the best one that falls in line with your financial standing and goals moving forward. As you ponder your options, you may be asking yourself, "Should I head to the bank to apply for a loan, or should I apply for a cash loan online?" While you weigh your options, take these things into consideration before making our choice:
How much money do I want to borrow?

What type of loan repayment terms makes the most sense for me?

What is my credit standing?

How quickly do I need my money?
Once you have determined these factors, it may make more sense for you to apply for a cash loan online. Please feel free to reach out to the Cash 4 You team with any questions you have about our money solutions. In the meantime, let's explore the benefits of applying for a personal loan online in today's blog post.  
What are the Benefits of Applying for a Cash Loan Online?
So you need money fast but you aren't sure where to start. We can help. Applying for a personal loan online, such as an installment loan,  is a great option for many reasons. Check it out.
It's Convenient
The biggest advantage of applying for a loan online is convenience. Long gone are the days of having to get all dressed up to drive to the bank to apply for a loan. Cash 4 You offers both online and in-store applications for maximum convenience. You can apply from your home or office in comfort from your desktop, laptop, tablet, or mobile device, and get approved within minutes. Then, you can drop by and see us to pick up your cash-in-hand the same day.
It's Fast and Easy
We make getting the money you need fast and simple. When you apply for a loan online, the entire application process is easy, stress-free, and only takes a few minutes. You can expedite the process by gathering the required approval requirements beforehand. These items include:
Proof that you're an Ontario resident.

A government-issued ID showing that you are at least 18 years of age.

Proof of steady income.

Proof of an open, active bank account.
You'll answer a series of questions and we'll process and approve your loan right away.
It's Safe and Secure
It can be a little unnerving to do anything online these days, especially when you have to provide personal information. But at Cash 4 You, we take trust, security, and safety extremely seriously. We want you to feel confident in knowing that your personal information is always confidential and secure, which is why we rely on 256-bit SSL safety encryption technology. On top of that, we're a reputable money lender that strictly adheres to Canada's Privacy legislation. Please feel free to click the link to review our privacy policy commitment to our customers for details regarding the safety measures we take.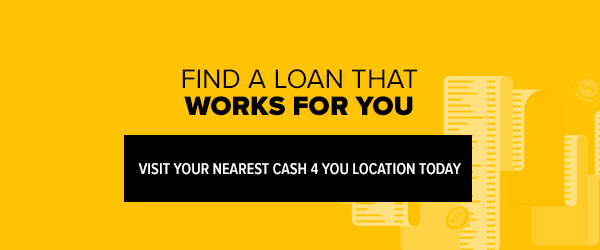 It's an Ideal Money Solution for Most Credit Situations
Cash loans online are an ideal option for people who fall just about anywhere on the credit spectrum. From stellar credit to mediocre and even poor credit, applying for an installment loan online is a great option for people from all walks of life. The great thing about applying for a loan online with Cash 4 You is that we look at so much more than just your credit history when we're reviewing your application. Better yet, once you start repaying your loan in regular monthly increments in the full amount due, you can use your loan to help rebuild your credit standing. It's a win-win! 
We'll Approve You Instantly
Unlike other loans, applying for a cash loan online means you can get approved instantly without the stress of going through a bank, or having to rely on high-interest credit cards to cover your expenses. Whether you need money to cover a big purchase, moving expenses, rent, or anything else, you can get instantly approved for a loan of up to $15,000.
Apply for a Loan Now
If you are ready to get the cash you need in-hand, and you don't want to jump through hoops to get it, our money lenders are ready to assist you. Simply visit Cash 4 You to apply for your loan online. All it takes is a few minutes and you can apply from the comfort of your home or office, or even from your tablet or smartphone. We know there are a million other things you'd rather be doing, which is why we make the application process as fast and easy. We can approve you instantly for cash loans as low as $1,000 and up to $15,000. Of course, you can always stop by one of our 100-plus locations in Ontario to start the loan process, but it's just so easy to do online. Once you're approved, you can get your cash the same day. It really is that easy. Connect with Ontario's Top Rated Local® lender to explore your options, and enjoy the convenience, security, and peace of mind that only Cash 4 You can deliver.
If you liked reading this article, you'll love watching our videos. Subscribe to the Cash 4 You YouTube channel to watch handy tips, how to's, and learn all you need to know about our money solutions and more.