Let's face it, we've all been in a position where our credit history is less-than-perfect. That's ok! Sometimes life catches up to us in the form of unexpected bills and changes in career. But there are easy ways to repair your credit, or build your credit, using a personal loan. Join Cash 4 You as we outline some of these ways below!
The Six Steps To Using A Personal Loan for Credit Repair
Personal loans are a great way to carefully repair your credit score over time. Fortunately, this process is fairly straightforward and can be completed in as little as six steps!
Step 1: Have a Plan for the Money
First off, don't take a personal loan just for the sake of having the money on hand. Make sure you have a clear plan of action of how you'll use the money. Use the personal loan to pay down your high-interest debts. That could be a student loan or a car payment. If you're debt-free, consider investing the funds from the loan into something that helps to build your credit like a car or home.
Don't spend the money on frivolous things like new clothes, a new phone, or other luxury items. You'll only sustain the cycle of debt you worked so hard to get out of.
Step 2: Look for the Best Terms and Rates
There are plenty of organizations that will offer you a personal loan, but that doesn't mean you should take the first one you see. Shop around and look at different rates and terms. Find a lender that offers generous repayment schedules. For instance, at Cash 4 You, our Ontario money lenders give you up to 60 months to pay off your loan, and we are clear on our interest rates.
---
---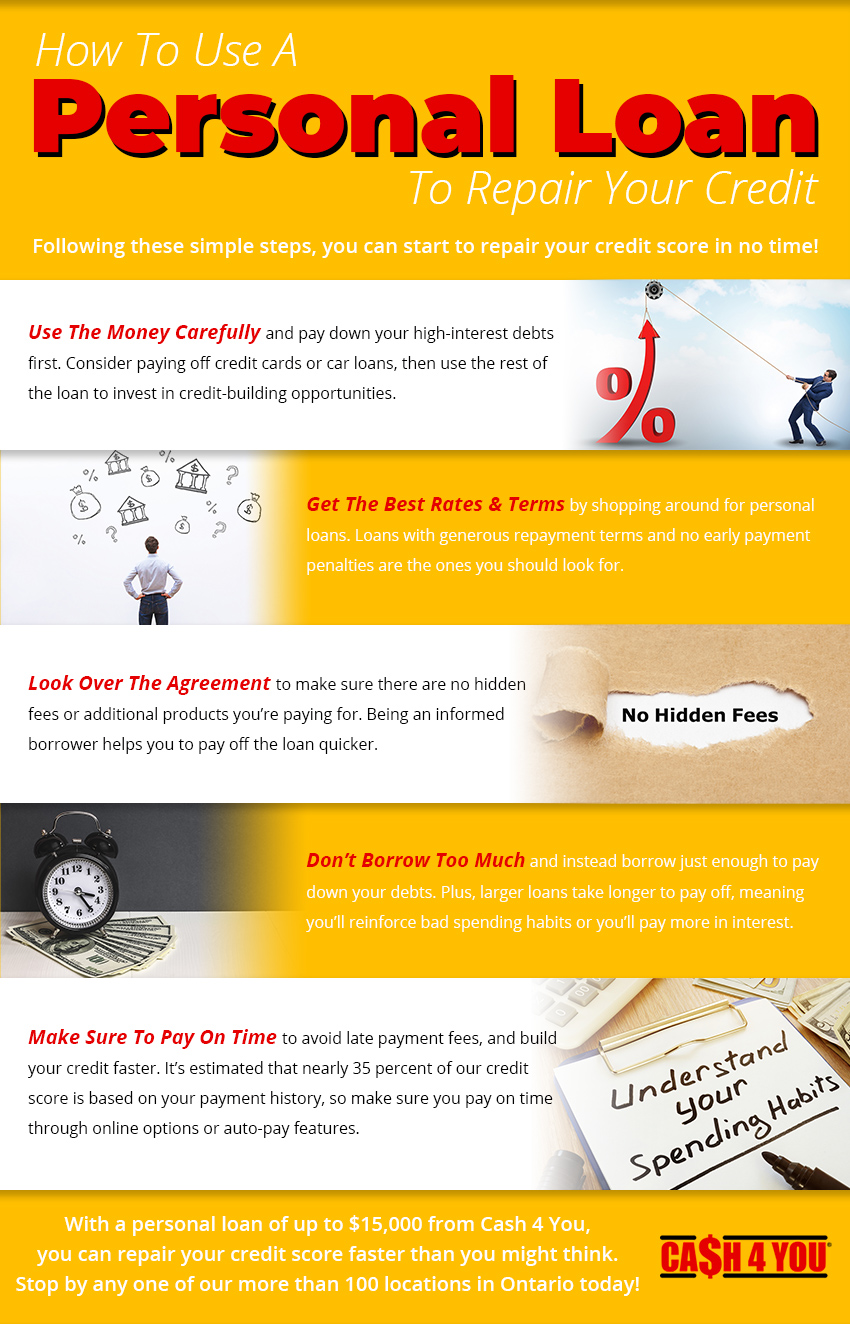 ---
Step 3: Inspect the Loan Agreements
Once you're approved for your personal loan (and at Cash 4 You, we can approve you almost instantly), it's important to pour over every detail of your loan agreement. You'll want to look for the conditions and any clauses. These could lead to changing interest rates or the lender could use these stipulations to alter the loan term.
At Cash 4 You, we don't rely on hidden fees and what you see on paper is the exact loan you get!
Step 4: Borrow Less, not More
When you have the option to borrow a vast sum of money, you might agree to take the whole thing. After all, more money is better than less, right? Well, not always. By borrowing less money through a personal loan, you'll be paying less in interest over time. That means that you'll save more money in the long run.
Borrowing more than you need is just a way to sustain your bad spending habits and never improving your credit score. Our money lenders will help you choose a personal loan amount that's right for you. We can offer up to $15,000!
Step 5: Make Your Payments On Time
It's estimated that your payment history accounts for 35 percent of your credit score. That means that making your payments on time is one of the easiest ways to improve your credit score quickly. Use the loan money to pay off any high-interest debts on time, then start making regular payments toward the principle of the personal loan.
You can easily do this by setting up auto-pay through your bank or credit union, or by making your payments online! Plus, at Cash 4 You, we will never penalize you for paying your loan off early. You should be commended for your financial savvy, not punished!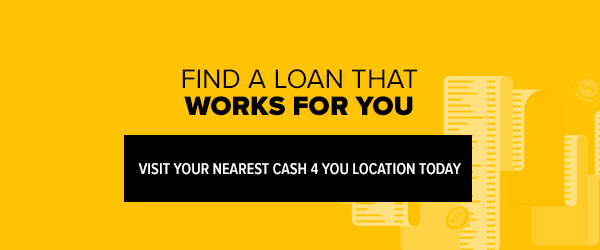 Cash 4 You has more than 100 money lending locations across Ontario. Find the store nearest you to ask about our personal loan options and to start repairing your credit right away!