Handy Tips to Help You Apply for a Personal Loan
One of the best ways to get the money you need when you need it most is to apply for a personal loan. But knowing how or even where to get started can feel overwhelming and stressful. The friendly money lenders at Cash 4 You are here to tell you that it's actually much easier to apply for a loan than you think — especially when you borrow the money you need from us, Ontario's favorite money solutions retailer. Let's explore the five simple steps you can take to apply for a loan that works for you.
How to Apply for a Personal Loan
Determine the Amount You Want to Borrow
First things first. You will want to determine how much money you want to borrow, which can help you determine the type of loan you want to take out. Keep in mind that overborrowing beyond your means can send you into a financial tailspin, so be realistic as you're coming up with an amount you want to borrow. A good way to figure out how much money you want to borrow is to make a list of the ways you plan to use your money. Consider these key factors?
Are you taking out a loan to cover a big purchase, such as a car, home improvements, a vacation, or a wedding?

Do you simply need a small amount to cover everyday expenses for the next month?

Will you use the money to pay down high-interest credit cards?

Realistically, how much can you afford in terms of a monthly payment to repay your loan?
The important thing is to only borrow the money you need that is within your budget to pay back, according to the agreed-upon repayment terms.
Explore Your Loan Options
Determining how much money you want to borrow can guide you towards the best type of loan for your needs. Once you have an approximate amount in mind, start exploring your loan options. Research the different types of loans that are available to help you find one that is ideal for you.   
For instance, Cash 4 You offers a variety of loan options to help people of all walks of life get the money they need. If you only need a smaller amount to cover a small purchase, or to help you cover expenses until the next paycheck comes in, a cash advance loan in amounts of up to $1,500 may be the best solution for you. 
On the other hand, if you need a larger sum of money to cover the expenses for a big life event such as a move, a wedding, a dream vacation, or even to purchase a vehicle, an installment loan in amounts ranging between $1,000 and $15,000 makes more sense.
Find a Reputable Money Lender
Now that you have an idea of how much money you want to borrow, and the type of loan you might be interested in, it's time to find a money lender. The thing is, you don't want to choose just any ol' money lender in Ontario. And you also don't want to jump through a million hoops to get the money you need. Do your research. Find a lending institution that is reputable, has positive reviews, has funded people in a similar financial situation to yours, and one that offers different loan options. Better yet, you want to work with a lender that is friendly, knowledgeable, and who wants to help you find the best loan that makes sense for you.
Consider this: banks are a great option when you're looking to borrow money, but keep in mind that these financial institutions, and others like them, typically have very strict requirements when it comes to loans. Additionally, credit cards may also seem like a great way to get instant cash, but most credit cards come with annual fees, hidden fees, and — more importantly — high-interest rates. What's more, some loans actually increase over time so that you end up paying way more than what you actually borrowed.
Cash 4 You is a Top Rated National® money lender in Ontario that has funded more than $1 billion in loans for hard-working Canadians like yourself. We pride ourselves on providing friendly service and will always help you find a loan that works for you, not pressure you into something that could get you into a financial pickle. Not only that, we offer relaxed application requirements and work with just about every credit situation, even poor credit! As part of our commitment to transparency, you can rest assured that we will never charge you any hidden or unexpected fees, and you definitely won't pay any application or annual fees.
Gather Your Credentials
When you find a money lender, you'll want to have all your credentials ready to go for your loan application in order to expedite your approval. While some financial institutions fall just short of asking you to promise them your first-born child to get a small loan, we take a different approach. We want to make the entire loan process easy and stress-free for you. When you apply for a payday loan, we'll ask you for:
A government-issued ID

A minimum age requirement of 18 years

Proof of employment

A minimum of $250 per net pay

Proof of an active bank account
When you apply for a larger personal loan, such as an installment loan, you will need to:
Be an Ontario resident

Have a government-issued ID

Be at least 18 years of age

Have a steady source of income

Have an open and active bank account
That's it! You see? We said we want to make it simple for you and we mean it.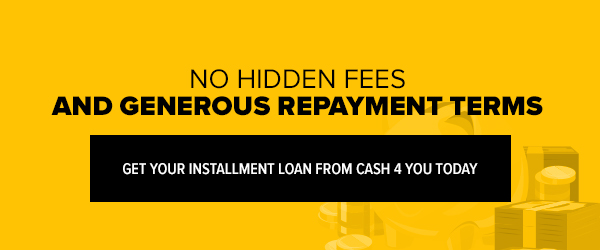 Apply Online or In-Store
When you are ready to apply for a loan with Cash 4 You, you have a few options. You can hop online and apply for your chosen loan, or you can stop by any of our 100-plus conveniently located stores spread across Ontario to apply. We'll approve you for your loan in a matter of minutes and you can get your money the very same day!
Get a Personal Loan That Makes Sense
It's so easy to get a loan with Cash 4 You! When you are ready to get the instant cash you need right when you need it most, our money lenders are ready to help you achieve your financial goals. Visit Cash 4 You online or stop by one of our stores to get approved for a hassle-free personal loan today! Discover for yourself why we're Ontario's favorite money lender!