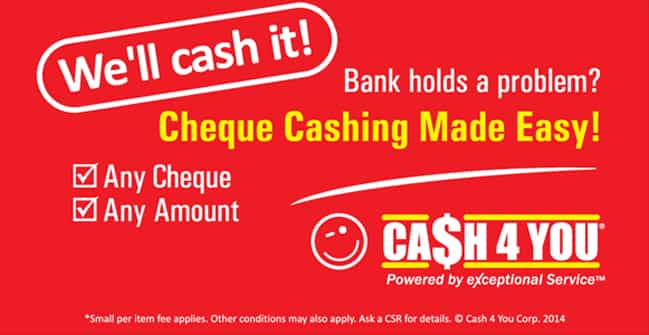 Any Cheque. Any Amount. We'll Cash It!
Need to cash a cheque? Ever go to a bank to cash a cheque and find it closed or they hold your funds? Bring it to Cash 4 You! We turn thousands of cheques into cash, instantly! Our cheque cashing service doesn't require a bank account so you can get access to your cash immediately! With our extended hours and convenient locations to serve you, you can bring your cheque to us and we'll cash it at a low rate.
With over a decade of service, our proven cheque cashing system allows us to cash most types of cheques!
Payroll cheques
Government cheques
Tax Refund cheques
Cashiers cheques
Bank Drafts
Money Orders
Insurance Settlement cheques
Court Settlement cheques
Cheques made payable to your small business
We cash all kinds of cheques at Cash 4 You. Even those they won't cash anywhere else! So instead of getting a hold from the bank on the cash you need today, you can depend of Cash 4 You to help you! You will definitely leave happy with cash in hand.
There's a location near you! We look forward to meeting you!