Thinking about taking out a personal loan? Know you could use the extra cash, but you're not sure how to make the most of every dollar? Don't stress about it, Cash 4 You can help you put your installment loan to good use!
Personal Loans Just For You
So what are personal loans good for? Frame your spending decisions around this good line of thought: If you're making a purchase that you plan on repaying in less than five years, using a personal loan to do it is a smart idea! In fact, it's the reason why Cash 4 You offers a 60 month repayment period on all of our installment loans.
Or, think of it this way. You can use your personal loan to help your personal development, be it financially, educationally, or physically. Here are some of the smart uses our customers have found for their personal loans.
Improve Your Credit Score
In a previous blog post, we outlined six easy steps you can take to repair your credit score using a personal loan. In case you missed it, here's a quick recap. Use the money to pay down your high-interest debts. Shop for the personal loans with the best rates and terms and that eschew early payment penalties. Make sure you're not paying any hidden fees and only borrow enough to pay down your debts. Finally, make the payments on your loan on time. You'll see your credit score grow with every step!
Make Home Improvements
Need to update the bathroom? Kitchen looking a little worse for wear? Just want to freshen up everything with a new coat of paint? Personal loans are one of the best ways to bankroll your home improvement projects. That's because personal loans don't affect your home's equity. Plus, you can get a personal loan fast, which is exactly what you need when the plumbing in your basement starts to leak.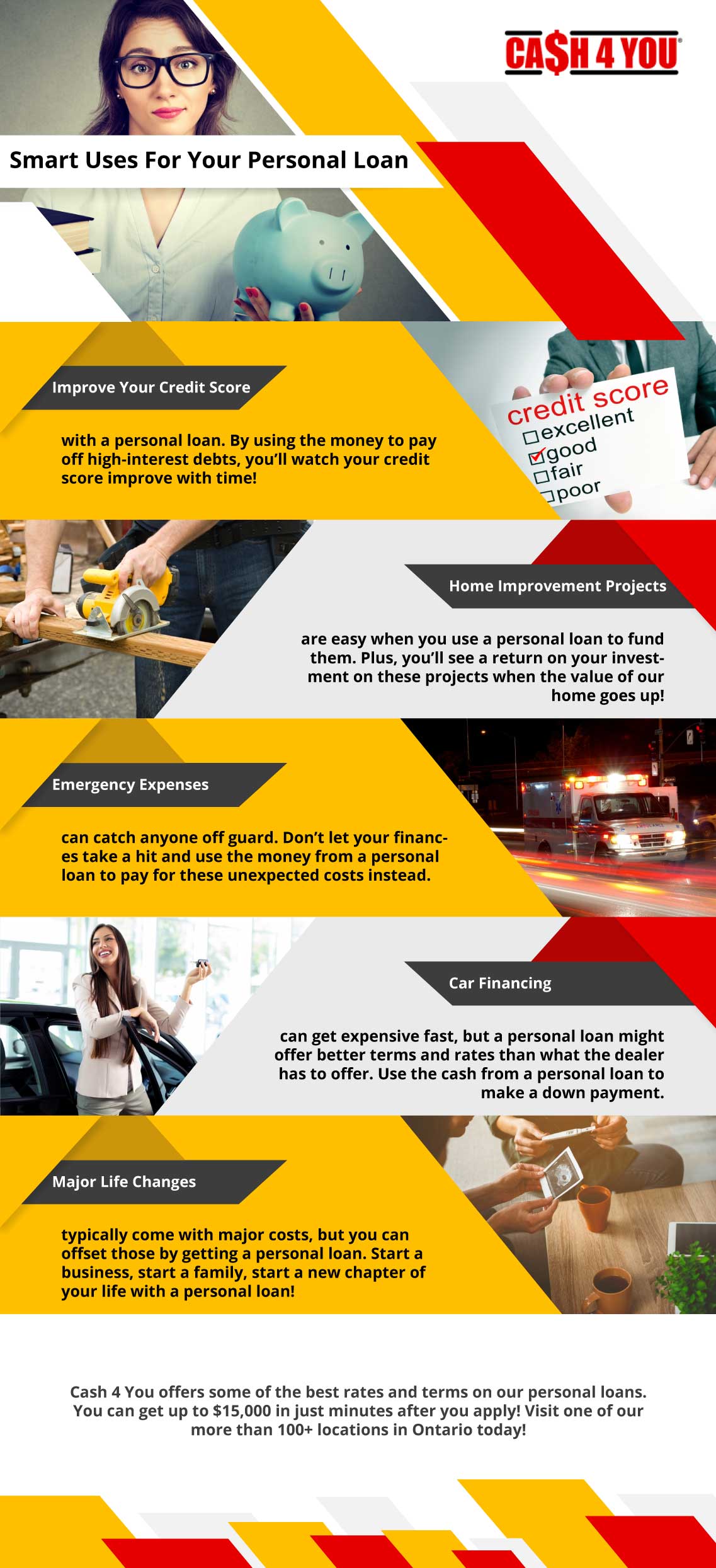 The best part about using a personal loan for home improvements is that these projects often dramatically affect the resale value of your home. Bathroom remodeling projects in particular often net back thousands of dollars during your sales negotiations.
Handle Emergency Expenses
Life can get complicated sometimes. When you have an emergency expense come up, you might feel stressed out, trying to come up with ways to make ends meet while still covering these unexpected costs. Whether it's a sudden death, a malfunctioning car, or a remarkable business expense, emergency costs can decimate our morale and our bank accounts. Fortunately, personal loans are practically tailor-made for helping you cover these costs.
Finance a New Car
Getting a new car, even if it's just "new to you" is always an exciting prospect. However, your excitement is often tempered by the financial reality of this experience. New cars might be more expensive than you can afford on your own, but a personal loan can offer you the cash you need to make a down payment. In other cases, a personal loan might also offer better terms and rates than whatever the car dealership is offering you. It's never a bad idea to check with us about the terms and rates at Cash 4 You before you agree to dealer financing. A short-term loan can help you get behind the wheel of the car that best suits your needs.
Major Life Changes
The beauty of life is that it's always changing. You find your "forever person" and decide to get married. You can use your personal loan to pay for your wedding or maybe use it to fund your honeymoon getaway. Let's say that you have the chance to go on your dream vacation but just need a bit more to make it a reality. A personal loan can offer you the financial freedom to go on that special vacation and make memories that will last a lifetime.
Personal loans are also great for other life-changing moments, like starting your own business. Use the cash from your loan to lease an office or workspace. Pay for specialized equipment or simply use it as your working capital will your business starts to develop. Personal loans are great choices for new business owners because the application is easier and faster than many other types of loans.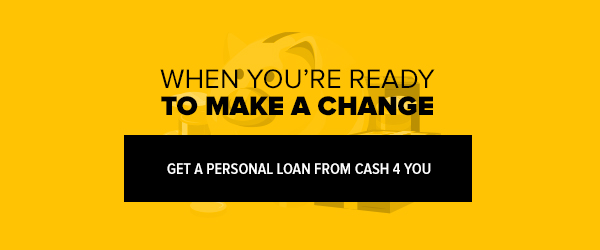 Find a Money Lender Near You Today
Ready to get your own personal loan? Cash 4 You is here to help! With more than 100 locations across all of Ontario, it's never been easier to stop by and see your nearest money lender. Our applications take just minutes, and you can walk out with cash-in-hand the very same day. We offer personal loans of up to $15,000. With low rates, no hidden fees, and no early payment penalties, we offer some of the best loan options in the business. No wonder we're Canada's Top Rated National® Installment loans lender! Visit the nearest Cash 4 You location today!