Summer is in full swing here in Ontario, and that means it's time to take some time off work or from your studies and go on vacation. We're blessed to live in a country that has so many natural and cultural wonders, ensures that we never run of things to do at any time of the year. 
If you can't remember the last time you took a vacation, that's probably a pretty good sign that it's time for you to take one. Don't quite have the funds? No problem. Cash 4 You in Ontario can offer you an installment loan for up to $15,000 so you can take the vacation that you deserve. But with your fund money in hand, where should you go? We put together this quick list of five of some of the most wonderful places you could visit for your summer vacation.
Take a Heli-Hiking Tour of the Canadian Rockies
For those with adventurous spirits, riding in a helicopter sounds like a great afternoon. But when paired with the chance to do some hiking in southern British Columbia, this is a dream vacation. You'll find helicopter hiking trips offered by a variety of companies typically from late June to early September. These companies are happy to take you into some of the most remote, and extraordinarily beautiful places in Canada, namely Banff National Park. 
Once you're done hiking in the mountains and hills, you can stay at one of the many wilderness lodges that surround the park. These lodges offer high-quality dining options set in cozy wooden cabins for a truly outdoorsy aesthetic.
See the City of Saskatoon Come to Life
If you're in search for some of that brilliant shimmering summertime sun, but it's time to visit Saskatoon. This growing city gets more sunlight per year than any other city in Canada, making it a natural hotspot for jazz and theater celebrations along with music and arts festivals. The city seamlessly bleat blends the natural and cultural worlds, as it is surrounded by fields of wheat in the South Saskatchewan River flows to the middle of town.
While you're there, do what the locals do and rent a bike or travel via bus. Plan your stay in the city's historic district and one of the many iconic hotels. Indeed, some of the most famous hotels like the Delta Bessborough lend the city its unique architectural look helping you garner the name the "Paris of the prairies." Saskatoon takes its name from the Cree word for an edible red Berry. It only makes sense then that the city would be home to some of the most high-end dining options in the region. Braise and browse your way through this bubbling city.
Find out More about the Golden History of Yellowknife
The capital of the Northwest Territories, Yellowknife is a bastion of civilization surrounded by the seemingly endless landscape of rock, tundra, and water surrounding it. Along the shores of Yellowknife, you'll find Great Slave Lake. For those looking for a rustic getaway, this rugged region is perfect for you.
Throughout the summer season, you'll find some of the most remarkable outdoor music festivals in the country. Folk on the Rocks takes place near Long Lake in mid-July. But once the bands have finished playing, the show doesn't end there. Keep your eye on the skies and you'll be treated to some of the most amazing views of the northern lights. Yellowknife itself is easy to get around by foot, but if you're looking to travel to some of the more remote regions nearby, you should consider hiring a floatplane.
Treat Yourself to a Good Time in Badlands
Despite the name and the presence of "hoodoos," there's no need to get the heebie-jeebies from the Canadian Badlands. This 35,000-square-mile region is remarkable for its towering and sculpted buff colored rocks, surrounded by endless fields. The region is known for more than a just it's rock formations, however. Within the Badlands, you'll find the Dinosaur Provincial Park, a UNESCO world heritage site.
You can connect with your wild side in the Badlands by camping out in the park. But if you're looking for something that has the comforts of home but still offers you a sense of adventure, consider many of the ranch lodges that dot the area. You'll even find lodges along the nearby lake.
Watch the Seasons Change in Agawa Canyon
When you're trying to fit in one last vacation at the end of the summer, make your last stop Agawa Canyon. By the end of September, the hardwood forests that surround the canyon explode into brilliant colors of reds, golds, and oranges. Thanks to the landscapes remote nature, you'll often be treated to a private showing of these incredible vistas.
One of the most popular ways to experience the canyon is to take the train tour. Leaving from the city of Sault Ste. Marie, this train travels more than 100 miles into the Ontario wilderness. With its large windows, narrated tour, and a wide variety of dining options, this train ride is one of the most luxurious in all Canada. For those looking for an adventurous way to connect with this landscape, consider taking a weekend-long guided canoe trip. While you stay in Agawa Canyon, spend time in one of the regions many fishing and wilderness lodges. With quick access to lakes, rivers, and more, these lodges are a great way to experience all that this natural paradise has to offer.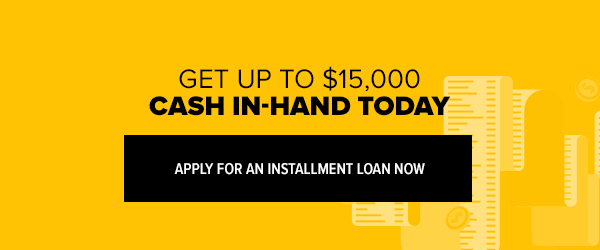 Fund Your Vacation With An Installment Loan From Cash 4 You
Ready to explore more? This summer is the time to do it! If you're short on vacation funds, a quick stop at the Cash 4 You store nearest you can get you one of our instant installment loans. We're ready to offer you up to $15,000 just minutes after you apply for it. We use relaxed credit score requirements and a simple application process to ensure that anyone can get the money they need to take the vacation of their dreams. With no hidden fees and a generous repayment schedule, you can pay your loan back on your terms conveniently. Search for "installment loans near me" today and find your nearest Cash 4 You.